I'm sure I'm not alone in that I want to keep my entire music library on an external drive, not my computer's internal storage. Engine handles this extremely poorly.
In order to do this, I have to manage everything by going to the bottom left, clicking "Drives" and making sure I'm adding tracks to my external. However when doing this I'm not able to remove tracks from any of those playlists, I must return to the left navigation panel to do that. Very cumbersome.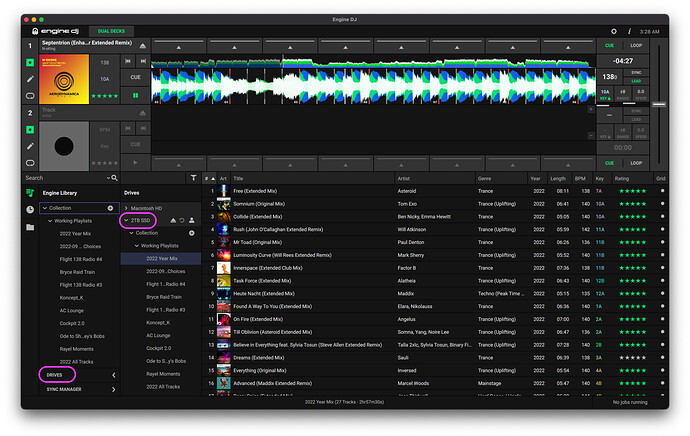 Also, every track I add to my external also gets added to a duplicate playlist on my internal, which I then have to go manually clear out every time.
I've been doing this since the Engine update that removed crates (this functionality worked much better before FYI I did not have to do this).
However now I notice another huge problem, that when I export a USB stick for playing on my SC6000s, if I make changes to the tracks on-player such as adding cue points or adjusting the beat grid, then return to my Mac, there is "no new data to sync" i.e. it won't bring any of that in. I assume this is because the same tracks are not on my computer's internal drive. That really really ■■■■■.
Why can't we have the option to choose master library location like in Rekordbox and iTunes? This would solve everything. Why so adamant about internal drive shared with my OS an apps?