Hi friends, hope you're doing well?

There is a custom (and pretty cool) project I've been working on for quite a while now. One core element will be controlled by one NanoPixx DMX512-to-SPI decoder, which can adress 'intelligent' LED stripes (like WS, SK, APA…) with individual pixels. With one DMX universe you can adress 170 pixels á 3 Channels (RGB). Perfectly fine so far!
Now what I need to know is how well Soundswitch plays with such DMX decoders, to be more precise, if it allows the user to create custom fixture tracks. Normally, when you connect e.g. a GigBAR, it is one hardware fixture brand, but it consists of multiple sub-lights (strobes, PARs, lasers…) which are all displayed as individual fixture tracks. I need exactly the same for my LED stripe, since I gonna split it in multiple parts. I really don't want to hassle with hundrets of channels in one track. I want to pre-group them as well, so I can apply different effects/chases/macros to them ("stripe section 1 please strobe. stripe section 2 please glow in blue", etc.). To visualize: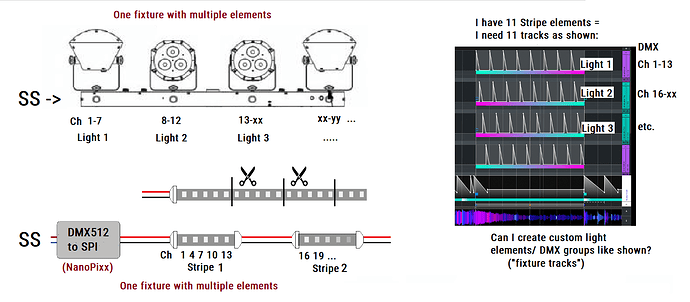 I am in contact with the Soundswitch customer support already, and while I appreciate the quick and kind response, it wasn't an 100% confirmation, more like "should work". Hence I wanted to reach out for the geeks here, who have already realized something similar. I have seen some videos where people adressed multiple LED stripes with Soundswitch, but I am not sure if a) they used one DMX decoder for all stripes and b) if so, if these stripes could still be grouped/displayed as multiple fixtures in soundswitch. Thank you so much everyone!