For a Rane 2015? I'd pass

I'm just echoing Mojaxx here LOL
The Mastersounds probably is a good mixer - lot's of people seem to like it, especially for it's analog sound. I have to admit I don't care at all about digital vs analog sound.
Feature-wise the Mastersounds would be a huge step down from the Rane, though. Like, comparing a CDJ-850 to an SC6000.
I guess it's similar with Condesa / SSA. BUT Stereodreamer's mixer looks sexy AF!
That looks great! And I have never known anyone to have a one of a kind mixer. Congrats on that!
Would love to see a Youtube video of you demoing this mixer especially with the ISO features.
Imagine people are probably abandoning Rane for the same reasons I unfortunately am after decades of loyal support, and that is perplexing and maddening corporate decisions made ever since Rane was acquired by InMusic. For example; the decision to not make the MP2014 Serato compatible, even though it has the same built-in dual USB interface that the MP2015 has. Or to no longer support SL2, SL3, and SL4, which leaves all us customers high and dry with very expensive, but now worthless paperweights. There's not even a solution available now for Serato DVS users using more than two decks. Crazy. Or taking completely unacceptable lengths of time to update the firmware on MP2015 to work with the last two macOS updates. Anyway, the writing is on the wall now that the MP2015 and any other Rane mixer with built-in interfaces will be suddenly unsupported as well, rendering them very expensive paperweights too. Sad stuff, and will no longer play this game with them. They created this mess, and my lesson has been painfully learned, too many times now actually. That being said, the MP2015 is an awesome mixer. Sounds great (sterile clean though, not a lot of character) and and love it (obviously, see below for my last setup), but it has way too many features that I'll never use, and like I said, I just don't trust them (Rane/InMusic) anymore to continue supporting these very expensive, but also very limited shelf life instruments into the future.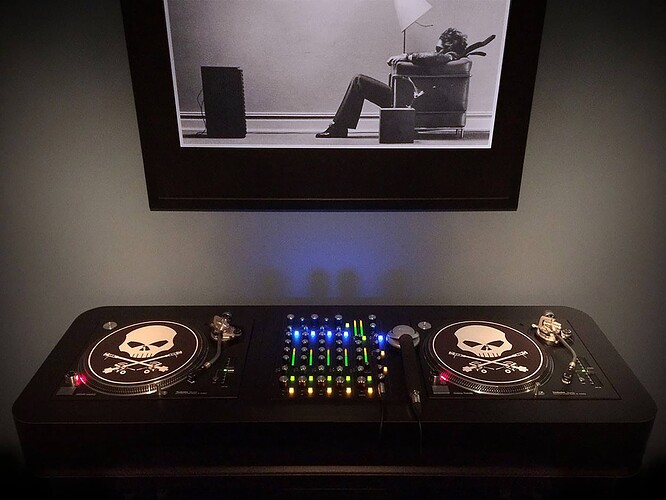 Sure, the 3/4 Isolator knob allows me to switch the master isolator from 3-band operation to 4-band by combining the Sub and Low bands in 3-band mode and separating the Sub and Low bands in 4-band mode. So in 3-way mode the Sub knob is inactive, and the Low knob controls frequencies from 280 Hz and down. In 4-way mode the Sub knob is active and controls frequencies from 80 Hz and down while the Low knob control from 80 Hz to 280 Hz. This is a very powerful feature that allows for all kinds of precise control over different tracks being played and tuning whatever room it's being used in. For example; I play a lot of older disco and funk tracks that where recorded back in the 70s to 80s when there wasn't a whole lot of sub bass in those recordings, so I'm able to surgically bump the very bottom end up so they sound a lot better and gives them new life while allowing them to blend a whole lot better with more modern tracks that do have healthy sub bass, otherwise the sound would be all over the place mixing older tracks that have anemic sub/low frequencies with newer tracks that have plenty. Another example is a trick I love to do when playing out live, and that is to build anticipation by completely killing all bass frequencies by turning down (off rather) both the Low and Sub, and then when the time comes to drop the bass back in I do that with JUST the Low knob and and the crowds go crazy, right? All us DJs should know that by now. BUT, here's the juicy part; I still haven't dropped the Sub back in yet, but the dance floor doesn't realize that yet, so when I eventually do they go nuts a second time when the rippling wave of Sub bass air hits them. Haha, love it, and there's not many tools out there that allow DJs to perform this trick since 4-way isolators are extremely rare.
BTW "pole" is in reference to the 4-pole circuitry used for the master isolator, and 2-pole is the circuitry for the individual channel isolators. 4-pole is 48db per octave roll off rate, and 2-pole is 24db, so the master isolator is much more aggressive in its isolation than the channel isolators, giving them each their own unique sound characteristics.
Yep, they certainly are. All you have to do is contact Mehdi at Condesa with a list of your wants and needs. Mehdi is the craftsman behind Condesa and SSA. He'll let you know what can/can't be done, pricing, expected build time, etc. Be forewarned though that if a SSA build is what you're after be prepared to wait a while since custom work does add quite a bit of time over a standard Condesa build. Mine took a little over year to receive from time order was placed. Well worth it though IMO. When you hear a full analog high-end mixer on a proper sound system it's hard to go back to mass production mixers.
Thanks for your extensive answer

I remember you had the 2015 and helped design the 2014, hence my comment.
The whole support thing really is a hot mess and I'm not overly confident it's gonna improve (as the 2015 seems to be EOL, now). From what I understand, its audio interface is class-compliant. It should continue to work on a newer OS. The control panel will probably stop working, though.
Anyway, you got yourself a decent replacement! I'm going to try to replicate your sub-bass trick (nice one, btw.) with the V10's 4-band eq.
That was our understanding as well, because that's exactly what Rane sold us on which gave us the confidence to invest all kinds of money in their hardware for the longterm, but nope. All we get is a "sorry." We were duped (again), and now they've lost yet another customer for good. Not playing those expensive games anymore.
Does that mean the audio interface also stops working on newer OS? I'm still on Mojave but I guess I'll need to abandon that some time in the future…
Apologies, I mistakingly thought you were referring to SL2/3/4 as being class compliant. The MP2015 is advertised as being class compliant, but after all the nonsense over the past several years I just don't trust anything anymore to suddenly not work after an update and be told "Sorry, we no longer support". As far as the MP2015 goes, the control panel ceased working after Catalina and Rane took forever to respond. In fact, there own forum is loaded with complaints about that and other issues, but ever since Rane was acquired by InMusic what was once regarded as world-class customer service pre-acquisition has sadly gone down the tubes (as predicted).
BTW, another known issue with the MP2015 is the very low max headphone volume, even after the firmware update a while back that was claimed to have fixed it, but in reality only improved slightly. Pretty sure it's a hardware limitation, but why they chose such a low max output solution on a unit like this is beyond me. Even after the update it's much lower than say a DJM-900NXS2, and much too low keep up with cueing in very loud environments.
This is one of this biggest issues of the 2015 The amp for headphones is really not good and too low even with a HD25
Makes my Normal Carmen V look ordinary


What's the deal with the mixer, SR.
Can't even see a crossfader ?
For many styles/genres (techno/house and derivatives) cross faders are "useless" as mixes are long and "sculpted". Quite a few mixers don't have crossfaders, model 1, 1.4, DJM-V10LF, most rotarys, to name a few. I personally never really used crossfaders in more than 15 years of DJsets

Its a rotary mixer - there's no crossfader as such.
Superb piece of kit - I love my MP2014 / MP2015's.
I have the Nightsky, IMO its really the kind of Reverb you'd want for Deep/Acid House/melodic techno (or I think electronic music in general). The Modulation, voice and quantisation sections just add infinite possibilities, it seems to me. Defo recommend!
Another very good (but yet more expensive) buy would be the Eventide H9 MAX if you want something seriously all-round effectswise. I kind of got lucky on that one, since I ordered An H9 Standard (containing only 10 or so of the about 50 effects algorithms you get from the H9 max), but ended up getting an B stock max one (which I gladly took, as the difference is about 200 €).Since then the cheaper Standard and Core versions have been discontinued, there might be some on second hand market though which is supported by the manufacturer officially. As far as functionality goes: Its especially nice if you have an older iPad lying around like me (the first Air from 2013), that isn't much use or value anymore otherwise, since you can use bluetooth MIDI controls on that and it basically mirrors all 5 of their ~500 € stomp boxes, so the value you get is actually incredible. Without u can still use all the effects, but the haptics might be a bit harder to master (I obviously never bothered). Of course you can do MIDI over USB or even classic MIDI (DIN) on both pedals as well and use any other midi controller (Like a Xone K2, which I'm thinking of getting as a general purpose MIDI controller maybe for lights and to control both my effects units on multiple layers).
Maybe that helps anyone deciding on these things

Thanks for the insights! I went with the Nightsky - awesome reverb!
Yep, as the others above here have already correctly said, crossfaders are useless for the style mixing I, and many other DJs do, especially those us who prefer to use high-end rotary mixers such as Condesa/SSA, Bozak, Urei, Resør, Varia, E&S, ARS, MasterSounds, Taula, et al. Not to mention there's the added sound degradation that typically comes from adding another component like a crossfader in the signal path, which defeats the whole goal of achieving highest sound quality possible.
Nice! White just looks fresh and clean.
I grabbed a two of those cheap mini LED moving heads earlier this year on eBay and they're pretty good for the money. They were my SoundSwitch learning tools.