Awesome! I was impressed then and I'm still impressed today. One of the first DJs that I came across when I fell in love with the art was a guy working for a college radio station in Boston putting together a mix with reel-to-reels. At the time there was nothing that would come close to a reel-to-reel's sound. I can say that I've had the pleasure of trying this on several occassions. It's challenging but fun.
HOWEVER, in the long run I think I'd rather flip burgers than to spinnng tape every weekend! LOL
Yeah same haha, hassle for the sake of it… buzzing to see Kerri have a pair of SC6000s off to the side though, feel like that's a huge plus for the brand having one of the true masters rocking them.
And then someone say: "I have no time to preview a track …" What the hell should he say … this is awesome

Was pretty awesome indeed to see the players with Kerri, he's a big fan.
Might also be worth highlighting a fair few more pro's that are using the Denon Dj set ups:
Beatport LINK'd Sessions - YouTube Playlist
More DJs - YouTube Playlist
More still being added

It's great to see man… the more the better, I know you can't really say it but I can. One company has spent too long as the 'standard', and with it they got complacent with their releases. We consumers are in a much better place now because of Denon and their Prime series.
Kerri Chandler is my absolute favorite House DJ!!! He's an 'effing wizard!!
Yeah he is a bonafide legend, and absolutely great to see him supporting the Prime products.
A proper house DJ.
Joey Llanos (of the Paradise Garage and its lineage) and Craig 'Shorty ' Bernabeu (behind many incredible club sound systems in NYC) are both fans, too. Not much as internet influencers go, but they both have incredible IRL influence in NYC and in certain circles, esp audiophile w/ Shorty. Would be great to see them get some attention for that, hopefully spread the gospel some more.
Yeah Defintely, and let's be honest in the more audio conscious DJ world it doesn't need much persuasion to get them off Pioneer stuff, from what I've seen amongst the Rotary mixer heads etc they do anything to avoid them.
If you get paid to spin on a regular basis, then you are working in a professional environment.
I think you misunderstood my post, I'm responding to the much thrown around opinion that you only ever see one brand being used in 'professional' spaces. Namely the club/house music/EDM scene.
Yeah, I'm with you. I'm reminding everyone that the popular opinion and the term professional environment are vastly misunderstood and misinterpreted. I'm on your side brother

Ahhh ok yeah fully agree on that, although personally I refuse to call myself a pro DJ as I have a day job

I am surprised Shorty is using the Prime players considering he was dedicated to the Technics SL-DZ1200 just for their reference sound processing and analog outputs combination even considering how troublesome their functionality could be. But then again, they're mostly only playing old house and disco. Prime's extra oomph in the bass certainly doesn't hurt that stuff, the dainty, thin, tinny production on some of them could use some roll-off and warmth maybe, and they tend to be sparser and more dynamic, which better tolerates that sort of processing signature. I have seen a sizeable number of analog rotary house, disco, and funk DJs switching to Prime lately. It's hard to know what most of those guys are up to now considering wavemusic forum is gone and they don't seem to participate much in the FB group much. Sad. We probably could have started more of a movement going in that community and publicized it better if that forum was still active. Maybe those playing old school techno could also be better marketed to, like get Derrick May a pair of Ms. That's pretty sparse, minimalist production that can also come off as lacking 'body' & loud compression compared to newer stuff. Richie Hawtin I'd say is out because he's more the live production side.
"You don't see Denon in a 'professional' environment"
Not so: here's one, pictured in a professional environment, yesterday…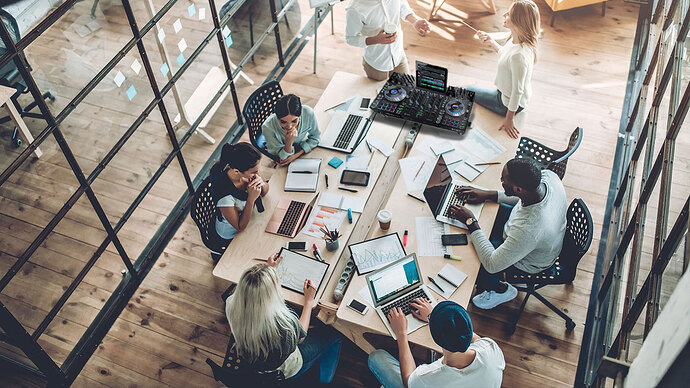 "The Photoshop force is weak with this one"