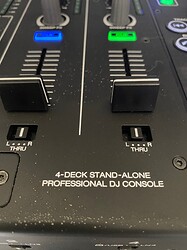 Anyone else have this issue with the finish of the controller? Numerous small white speckles on the mixer section.
Yes I have two similar areas between each pair of upfaders. If you look closely enough it's a lack of paint. What you're seeing is the metal underneath.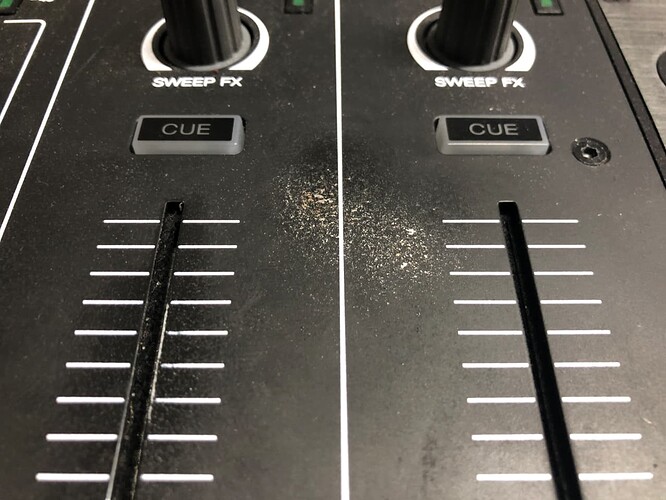 Thank yes it doesn't bother me but thought I would share if a common issue with others. Just a poor finish on the coating. I do have a decksaver and thought this might of caused it but sure it isn't.
Starting to see this on mine, less than 12 months old
Thanks for your message. Yes I'm pretty sure this is a fault with the finish on many controllers. I understand over time but defo not 12months. Not sure if Denon are aware.
Thanks, not sure if it would get worse over time. On mine it's at the bottom of the mixer on the edge and little bit on the fader. Defo keep it clean after each use. I use a micro fibre cloth.
Not sure I agree with you there. I push my faders up with my fingers on the knobs. They don't come anywhere near the area in between (where the marks are). The paint below the faders (where my fingers do touch) has gone shiny but hasn't blistered off. You can see the shine on the left fader in the pic I posted.
I started to see something similar on my X1850. I bought a white skin for it so I don't see it anymore

Probably just where I've been prodding the damage. Honestly there's no other reason for my fingers to go there - it's a blank area between the controls.
Just cheaper out on the protective coating. Same issue is common on the djm800 and Z2
It's good practice to try and clean your unit with the microfibre cloth after each use. The residue from fingers etc can damage the outer coating if left. I always try to wipe away any oily spots with the cloth and just all round dust the unit.
Mine is now 18 months old & is covered in speckles. I have 4 areas… and these areas are growing & spreading! And as noted in this thread, in areas where I don't hardly touch.
I keep the unit perfectly clean & it has the dust cover. Very disappointed with Denon here because I look after all my equipment & yet the P4 now looks well used & old. Not happy with how loose the filter knobs have become or how loose (& grindy) the low eq knobs are.
I would have preferred paying more to get more quality rather than cheaping out on the finish & poor knobs & buttons.
What do you use to clean the unit?
I just use a microfiber cloth but used very lightly.
I agree and the same have dust cover, which is essential with any DJ equipment. The finish and condition of the hardware should be better quality.
I wonder how many units this affects.
I did think about a wrap on the mixer section only, they do brush metal one which the mixer is already.
Same use micro fibre cloth.
Mine have the same white dots in fader of channel 1.
Can someone from Denon tell us the part numbers of all top plates (mixer plate and left right deck plates? If my p4 white dots go worst i would like to order replacement parts.
Fortunately my controller has not had this yet, but I do always make sure to wipe it down after I use it with Windex Electronics wipes. They work really good at removing fingerprints, grease, and any stains. They are also streak free and at most Walmart's and Targets in the US.
This is just started to happen on mine