Is there ever going to be a stand alone turnablist controller for scratching but with engine etc ?
Engine is just for music prep, IMHO Engine Desltop will never be DJ software since there are other options that the Prime series works with. The Prime hardware has always been promoted as STANDALONE first, not a software controller.
I think OP meant a standalone unit with Engine OS, motorized platters aimed at scratching/turntablism. Maybe something like a DDJ-REV7 with a touch screen and Engine OS.
I feel like it's probably more of a question of when. : )
Engine runs all new prime gear , meaning new gear as motorized platters or something simalar or close to it because scratching on the prime go is nothing like scratching on the sc6000m's , maybe a batery prime 2 motorized contoller hybrid of something …my dreams lol …decent jogs, proper fader and an eq for the mic would make the go 2.0 my top list
Rev still requires a laptop and a dc outlet powersource
I still have hope for a 19" rackmount dual player running on Engine OS from any brand. This way Engine OS can be introduced in taperacks, in small bars and other installed environments
This.
At work we have a 19" rack mount space with a blanking plate on it. I stand the Prime Go onto it.
It's a shame there is no option to put "ears" onto it.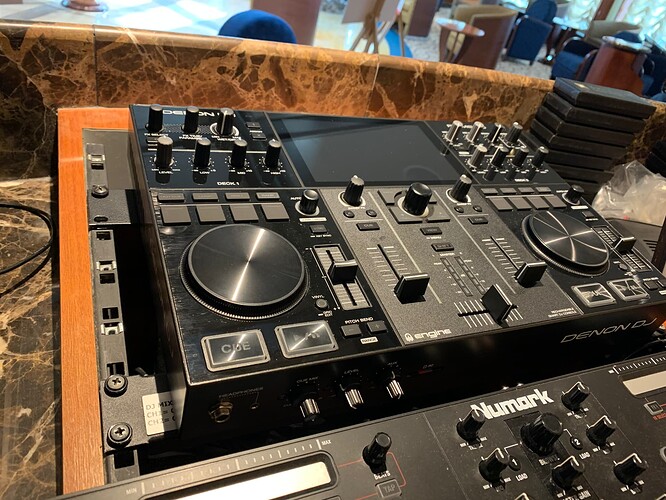 @MrWilks … you could make a set of drop ears for the rack ( a z bracket basicly) then the prime would drop into gap but rest on the brackets
Magic. I think I'll give it a go at some point as I've found something that'll do it I think.
The other option is 8x angle brackets and a sheet of 9mm plywood. Screw brackets into side of braced 9mm ply and drop it in… Probably the better option so if anything drops your not routing round in the back of the rack. Drill a few holes in ply for ventilation and its basicly a dropped shelf