Is it possible to reset Dropbox's authorisation to Engine Prime - if so, how??
Thanks
Not sure what you want to achieve, but this are the options:
In Engine DJ (desktop) you can open preferences (press cogwheel) and under Library → Cloud Storage → Dropbox you can turn Dropbox OFF

Engine DJ Dropbox relies on the Dropbox application. You can sign out in the Dropbox settings in the preferences of the Dropbox application under Account. Next time you will open Engine DJ the 'Dropbox folder missing' will pop-up. You can log in again (or to another Dropbox if needed) in the Dropbox application to restore link for Engine DJ desktop.

On the hardware you can press the Quick Source menu (top left) to list the sources and go to the preferences of Dropbox (press cogwheel next to it). Here you can choose 'Log out' .

On the hardware you gave Engine permission to access Dropbox direct. You can disconnect the link between Engine and Dropbox to undo this permission. Go to https://www.dropbox.com/account/connected_apps and under 'View Dropbox content' you will see Engine DJ. Click on > to see more if needed and here you will see a Disconnect button. Disconnecting this app will prevent Engine DJ from accessing your Dropbox.
Hopefully this helps
Still trying to figure this out
The best thing to do here is to use 2.4 and do a factory reset. That will wipe all Dropbox credentials from the system and then you can re-pair again if you like.
AirVince - how do I factory reset my Prime 4??
Using EOS 2.4, swipe down and go to Settings - About / Update and at the bottom there is a Factory Reset button.
I've factory reset the Prime 4 BUT I'm still getting the same error for Dropbox Integration.
When I do into Dropbox App store, type in in Prime - it takes me to the Denon link page - there is NO link option, just More Info., I click on this and I get the same Denon error page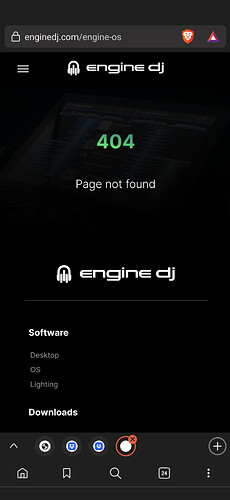 Which means I can't relink the Prime 4 with my Dropbox
Ah, You should be activating on the device itself. Press the source icon on the top left hand corner of the collection view, then Dropbox. It will then take you to a screen with a 5 letter activation code and a link to dropbox.enginedj.com.
AIRVince thank you for your help. Reset my Prime 4 and was able to login with dropbox.