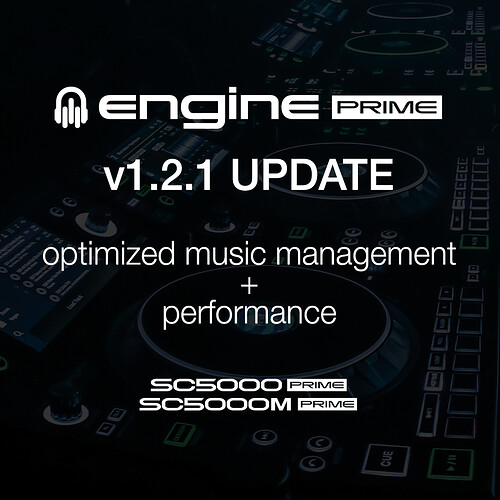 Dear SC5000 users, we are happy to announce today the launch of V1.2.1 Firmware and Engine Prime 1.2.1
Important information for upgrading users:
Engine Prime Software1.2.1 is compatible with all versions of Denon SC5000 Prime players.
Engine Prime Software 1.2.1 is not backwards compatible with Engine Prime Software 1.0.3 or earlier. Switching back to earlier versions may cause undesired behavior and loss of collection integrity. We recommend making a backup copy of the Music/Engine Library folder as an extra safety precaution before upgrading.
In order to add new features to the Prime products, Engine Prime needs to upgrade the music databases on all drives. This is done automatically when any drive is connected to Engine Prime Software or a SC5000. Because this may take some time, we recommend that you upgrade your drives in connecting them to your computer when the Engine Prime Software is open.
Updating via Drive:
Prime Hardware with version 1.2.0 or newer can now be upgraded by adding the firmware directly to a USB stick. This is an easy and convenient way to make upgrade players without the direct use of a computer. To update via drive:
Download the standalone firmware from the respective Denon DJ product page on DenonDJ.com
Unzip this and then copy the file to a compatible USB drive or SD card.
Insert the drive into the player and, open utilities and then press restart.
The player will then prompt that it has found a new firmware version. Confirm to restart.
After update is finished, the player will restart again into normal mode.
SC5000 PRIME / SC5000M Prime Firmware 1.2.1:
New Features:
Increased the scratchable/playable empty space before the start of the tracks.
Bug Fixes:
Releasing momentary hot cues now reset to proper position.
Fixed an issue where searching could end up only searching within the previous search results.
Fixed an issue where downgrading to an earlier firmware version could break network connectivity.
Fixed an issue where continuing to scratch forward/backwards could result in small pops with some audio content.
On Air mode now resets properly when disconnecting players from the Denon X1800 mixer.
Fixed an issue where the player could reset when attempting to read a corrupted database.