Hi Everyone!
Today we're happy to announce the release of Engine Prime v1.3.2. This update includes a number of new features, improvements and stability enhancements.
A big thank you to our Engine Prime Private Beta Team for helping us test and refine this release.
Here is the overview video highlighting a few of the key features.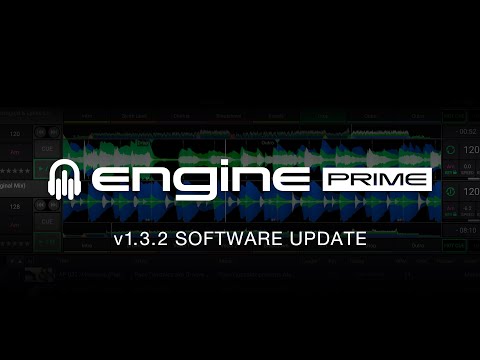 Please find the download and full release notes below.
Important Notices:
As of Engine Prime v1.3.2, macOS El Capitan 10.11 has been removed from the officially supported operating systems.
macOS Catalina 10.15 is not yet supported. This support is planned for the next release.
Current supported Mac OS versions include 10.12, 10.13, and 10.14.
Current supported Windows versions include 8.1 (up to date) and 10 (64-bit only).
Engine Prime v1.3.2 - Release Notes
New Features:
Added Serato Crate play order being retained when imported as a Playlist
BPM detection improvements
Added waveform zoom controls in the deck area
Added Playlist total time and file size in track list
Added Crate total time and file size in track list
Added the ability to select multiple tracks to drag to desktop or external applications
Added the ability to drag and drop a folder from your files system into the Playlist area to create a new Playlist
Improved the import and update time for Serato, Rekordbox, Traktor and iTunes libraries
Text selection highlight retained when Hot Cue color selected
When the collection update button is pressed, the song list is now focused on the collection being updated
Metadata is imported for more WAV formats
Added warning when deleting Crates
Changed "Publisher" to "Label" in Sorting Columns
Fixes / Improvements:
Fixed issue with the scan running even if MCX8000 compatibility scan was set to off
Fixed crash when using Skype with Bluetooth headphones
Fixed issue with unsupported drives showing user profiles
Fixed issue where some tracks appear with 00.00 track length
Fixed possible crash with duplicate sound cards attached
Fixed possible crash when exporting to external device
Fixed possible crash on shutdown
Fixed possible issue with mouse scrolling sometimes jumping up to top of the tracklist
Fixed possible freeze when dragging tracks around library
Fixed issue with locked tracks failing to export to device
Fixed refresh of track list in collection view for third party library imports
Fixed issue with file duplication using Unicode characters on Windows
Fixed the track highlight refocusing to the first track in a Crate when removing a track
Fixed an issue with repacked playlist folders resulting in incorrect track count on hardware
Fixed possible crash when updating Serato library
Fixed an issue with Rekordbox files displaying file size incorrectly in File Size column
Fixed and issue with BPM Sort for Rekordbox and main library collection views
Various stability tweaks and improvements